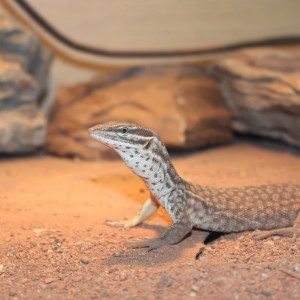 How to Care For Your Red/Yellow Spiny Tailed Monitor
Varanus acanthurus acanthurus/acanthurus brachyurus
The dwarf spiny tail monitor, also known as the ridge tailed monitor or the 'Ackie', is found across most of the northern half of Australia. Animals from the northwest of the range are generally described as V. a. acanthurus (red ackies), while animals from the east of the range are described as V. a. brachyurus (yellow ackies).
Because they are such a variable species even in the wild, there is actually very little difference between the two subspecies. Reds tend to grow a little larger, with males recorded at up to 30 inches long, but as a general rule both types grow to between 18 to 24 inches. Males are usually a little bulkier about the head and neck, and have more pronounced spines around the vent; females also have these spines but they are usually softer and smaller. They are not easy to sex!
There is a certain amount of anecdotal evidence that suggests that if a group of baby spiny tails is kept together they will sex out according to the number that are sharing living space; so if you keep three, you will end up with one male and two females. There is absolutely no scientific evidence to back this theory up, but we have heard it many times from people who keep and successfully breed this species!
They are unusual in that it is possible to keep them in groups; they are one of the more social species, and have been recorded as living in groups in the wild. However, unless you are sure of the sexes of your monitors, it's probably wisest to keep them alone.