SPECIALIST REPTILE SHOP IN OXFORD
Since 2007 we've been providing expert care for reptiles, invertebrates and amphibians.
Oxford's Specialist Reptile Shop
Explore our exciting collection of snakes, lizards, amphibians, arachnids, and invertebrates. We also offer a wide selection of reptile supplies available for purchase in store or online.
Trust in our experienced reptile experts who provide professional advice to ensure the well-being of your reptilian companions. Discover a world of reptile excellence at Evolution Reptiles. Visit us today!
Animal Care Hub - Advice & Guides
Expert advice and guides on how to take care of reptiles. Take a look at our care sheets, reptile advice and feeding charts, or find out about our reptile boarding services to make sure your reptiles have the expert care they deserve.
About Evolution Reptiles
We are proudly known as a specialist reptile shop with an excellent reputation both in Oxford, where we are based, and across the whole of the UK. We stock an exciting range of reptiles from snakes to amphibians, and lizards to invertebrates all available to buy in-store. Our experienced team are always on-hand and happy to offer their expert advice.
We have a passion for all of our reptiles and their welfare, and our dedicated team of reptile specialists are happy to help if you require any assistance or if you need any tips and advice on how
to care for them. 
Online Reptile Supplies Shop 
Evolution Reptiles also has one of the largest selections of reptile supplies for sale online in the UK. We sell everything from reptile housing, heating systems, lighting, food and much more. So, if you require glass or wooden vivarium, UV lighting or heat lamps for your pet, we have a great variety to choose from.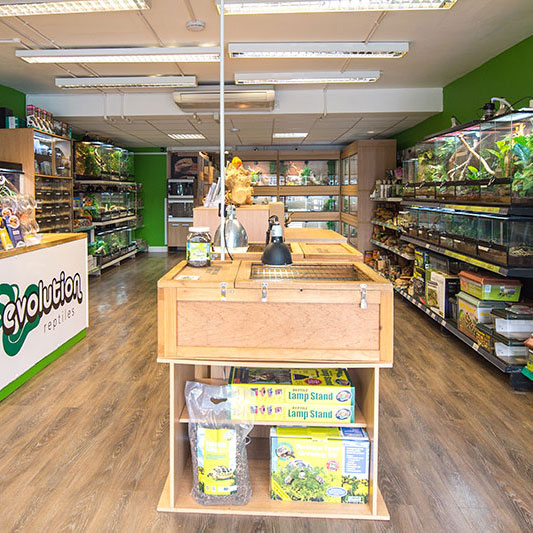 Why shop with Evolution Reptiles?
Our online shop also offers a weekly or monthly live foods subscription, frozen foods and dry foods delivery service. Giving you the peace of mind knowing that food can be delivered straight to your
door. 
Evolution Reptiles have also created a Care Hub which includes care guides on all of our most popular reptiles including snakes, lizards, spiders, amphibians, tortoises, arachnids and invertebrates.
Whether you are looking to buy your first reptile pet, add to your collection or just want to pop in to have a look at our beautiful creatures you are very welcome to visit our Kidlington Shop. Please don't
hesitate to contact us by telephone on 01865 372200.
Experienced team
Pete (the boss) started keeping reptiles back in 1992 and has worked with reptiles for over 20 years. There's nothing he doesn't know about reptiles.
Nicole started with one crested gecko and grew obsessed with all the facts there are about them. And then she got the reptile bug…
Luke has been keeping reptiles since he was 16. His collection has grown and so has his experience which includes working as head reptile keeper at Wild Zoological Park.